Really Reasonable Ribbon Blog Hop: Eat Drink and Be Scary Altered Chalkboard
Hello, Ribbon Lovers!
It's time for the September Really Reasonable Ribbon Blog Hop!  You should be coming here from JENN'S fashionable and fabulous blog. If so you are right on track!  You can always return to the RRR BLOG for the complete Blog Hop List.  This month we are working with the frightfully fantastic ribbons in the Haunted Halloween Ribbon Club Assortment.  They are spook-tacular!  I used them to create a super cute altered chalkboard that make a great piece of kitchen decor.
I started with a little 5.5″ x 8″ chalkboard.  I repainted the chalkboard area with DecoArt Carbon Chalky Finish Paint because I didn't like how grey the original chalkboard was.  I also painted the sides with this same paint.  Then I used a White Sharpie Paint Pen to hand write my sentiment.  This is better than chalk, because it won't smudge or wipe off.  Next, I added some real chalk and smudged it around to make it look authentic.  Then the real fun began!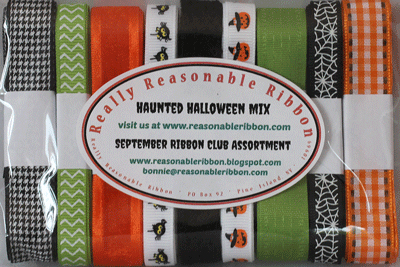 These are the ribbons in the Haunted Halloween Ribbon Club Assortment.  And they are FUN to use!  If you follow my blog at all, you know how much I love plaid and gingham ribbons!  And this collection comes with TWO kind of plaid ribbon.  Color me happy!
I used the Orange Plaid Ribbon with black stitching along the edges of my altered chalkboard.  Over this, I layered the cutie pie Itsy Bitsy Spiders on the sides and the creepy Black Spider Webs on the top and bottom. This was much more interesting than a coat of black paint!
In the bottom left corner, I went to work building my focal.  I selected a chipboard tag from Graphic 45's Happy Haunting Collection and secured it to the ribbon with one of Tim's Memo Pins and some foam tabs. Next, I used my Zutter Bow-it-All Tool to create a big loopy orange plaid bow.  I topped this with Gladys Black Crochet Lace and some orange and black burlap string. I curled the string by lightly coating it with liquid adhesive and wrapping it loosely around a pen for a few minutes.  When you slide the string off, the curl holds.  Beneath the tag, I created a multi loop burlap string bow and held it in place with hot glue.
In the opposite top corner, I placed a double loop bow made with the luxurious Black and White Houndstooth Plaid Ribbon.  Ooooh….I love this stuff!  It ties like a dream!  This was topped with a cute bow that I tied with Apple Green Chevron Striped Ribbon.  I hot glued a pair of acorns behind the ribbon, and added some sweet little orange daisies I found in my stash, just for fun.
I fussy cut a couple of small images from the Happy Haunting papers and decoupaged them onto the chalkboard slate as a finishing touch.
Bonnie has a great special on the Monthly Ribbon Club, and you can read all about it HERE. The next stop on this hop is the glorious vintage stylings of CHERRY'S Blog. Visit all the stops along the way, then go back to the RRR BLOG to answer Bonnie's question of the month and you might be selected as the lucky winner of this month's Haunted Halloween Ribbon Assortment.
If you'd like to purchase this Eat, Drink and Be Scary Altered Chalkboard, you can find it in my ETSY shop.
Thanks for hopping by!
Cheerio,
kathy