Black and White Wedding Album for Really Reasonable Ribbon Black & White Challenge
Hello, Ribbon Lovers!  There's a brand new RRR challenge starting today.  Your mission, should you choose to accept it, is to create a project that only uses black & white plus ONE accent color.  This was a tough challenge for me.  I might have grown up with black & white TV, but I like to craft in technicolor!  LOL  But I dug deep into my stash and found some Bo Bunny Enchantment papers (retired, ancient history…but beautiful!) and I worked up a little black & white wedding album to share with you here today.
So, obviously, my accent color is gold.  I used gold embossing powder on the edge of the front cover, and made gold flowers with a My Favorite Things Layered Rose Die.  My ribbons are from the gorgeous July Ribbon Club assortment.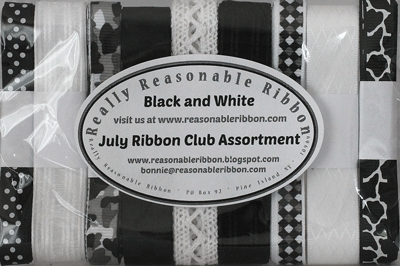 The chipboard album was one of those "almost finished" designs, so all I did was add beautiful ribbons and a few little extras to finish it off.
Each page has a different shape, which made it very fun to work with.
I paired up the beautiful sheer white with 4 satin stripes ribbon with the sheer black with 4 satin stripes ribbon to make all my bows in this album.  I love how easy it is to work with this ribbon!  It makes scrumptious bows!
Since gold was my other color, I topped all my ribbons with loopy bows made from metallic gold string. The metallic string comes in gold, silver and white iridescent.  I use them a LOT because I love the little touch of shine they add to project.
I die cut gold doilies which can be used as photo frames.  I made sure that all chipboard elements and ephemera are glued in such a way that a photo can be slipped underneath.
I used some vintage black and white photos to add a little pizazz to the interior of the album.
This really is all ready to go.  Just load in your photos and voila!  Instant album!
Be sure to visit the RRR BLOG for more black and white inspiration. And remember to link up your black and white plus one color project to the RRR BLOG so we can see what you make!
Thanks for stopping by!
Cheerio,
kathy
This wedding album is available for purchase in my ETSY Shop.