Hello, Friends!  It's time for another fabulous Blog Hop with Really Reasonable Ribbon. You should be coming here from Dana's lovely blog.
Today, we're featuring the gorgeous ribbons in the December Ribbon Collection.  These ribbons are so dreamy and lustrous, that I had to keep them out on my desk for a few days when they first arrived because looking at them made me sooooo happy!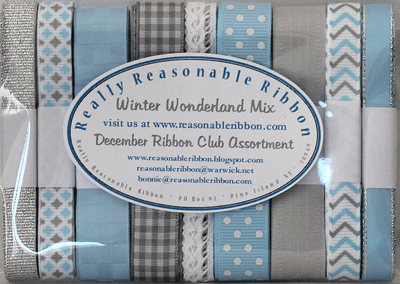 I've been on a winter bird kick lately, and so I made one last winter bird card using these yummy ribbons and some sweet vintage images from Crafty Secrets.
I've used every single ribbon in the December collection on this card.  I love the sparkle of the Silver Metallic Grosgrain Ribbon when it's layered over the subtle pattern of the Gray Plaid.
And the blue satin with silver metallic edges is one of the prettiest ribbons I've ever seen!
I layered the Silver Delicate Stitched Satin Ribbon with this soft wintry Diamond Print Grosgrain to form a border on the bottom of the card.
And I just had to layer the Priscilla Crochet Lace with the Swiss Dot Grograin Ribbon in the center.  And, then just for funsies, I made a little banner with all the ribbons.
Now you get to visit Cherry's beautiful blog which always inspires and delights me!
Here's the blog hop order, in case you need it:
Thanks for hopping along!
Cheerio,
kathy