I'll Have a Blue, Blue Christmas Card: Really Reasonable Ribbon Blog Hop
Hello, Friends!  It's time for the Really Reasonable Ribbon December Blog Hop.  You should be coming here from the ribbon stylings found on Karen's lovely blog.  (VIsit the RRR BLOG to find the complete hop list. )  This month's ribbon assortment is made up of Beautiful Blues, and my Blue, Blue Christmas card was inspired by these fabby ribbons.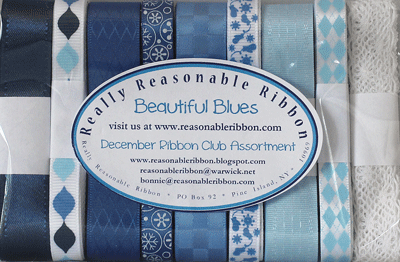 Mmmm…these ribbons are dreamy, aren't they?  They made me think of Elvis Presley's iconic Christmas tune, "I'll Have a Blue Christmas without You."  And now you will have that tune in your head all day.  You're welcome!
So naturally, I had to make a blue, blue Christmas card.  Only everything about this card makes me happy instead of sad.
I created a belly band by layering delicate Cindy Crochet Lace with rows of shimmering Blue Topaz Argyle Print Satin Ribbon.  Just like the argyle sweaters that come out at Christmas time, this ribbon adds another layer of texture and pattern to the scene, and I love it!
This card was very soft and pastel, as were the pretty patterned papers I selected from Polly's Paper Let it Snow Creativity Kit. I needed to add a shot of rich color to anchor the card, so I made my poof-tacular bow with Light Navy Satin Ribbon with Grosgrain Edges.  This picked up on the vintage navy accents in my focal image and just tied the whole card together.  No pun intended!  The flowers I used to stage my photo are WOC Magnolias.  The creamy white flowers on the card are from Petaloo.
I love topping a bow with a little bit of White Iridescent metallic string.  It just adds that extra bit of shine.  I also wanted white jingle bells…but did not have them in my stash. So I painted silver ones with Picket Fence Distress Paint and then glittered them while they were wet.
Here's a peeky inside this Blue, Blue Christmas card:
If you'd like to join the RRR Ribbon Club, it's very easy: just click HERE and sign up!  Every month you'll receive a new package of gorgeous, color coordinated ribbons in the mail, and it will feel like Christmas all over again!  Bonnie has a great special going on right now where you can get TWO ribbon club assortments for a special price.  That's twice the happy!
And speaking of happy, it's time for you to hop on over and see what kind of pretty Christmas treat Leslie has prepared for you!
I hope you got some good ideas from my Blue, Blue Christmas Card!  If so, I hope you'll let me know in the comment section! Thanks for hopping by!
Cheerio,
kathy