Crazy for Christmas Mini Album for Really Reasonable Ribbon Blog Hop
Hello Ribbon Lovers!
It's time for another fabulous blog hop at Really Reasonable Ribbon. You should be hopping over from JENN's fashionable and fabulous blog. If so you are right on track. If you'd like to start at the beginning of this hop, go over to the Really Reasonable Ribbon BLOG where you'll find the complete list. You don't want to miss a single stop along the way, because I've seen the previews, and there are some fabby projects for your viewing pleasure. I used the the fresh, fun ribbons in the October "Crazy for Christmas" Ribbon Club Assortment with retro papers from October Afternoon to make a massive Christmas mini album.  Just check out these fabby ribbons!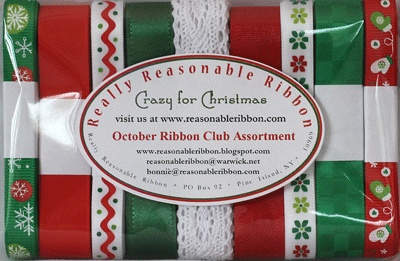 These ribbons put the jolly in Holly Jolly! The retro vibe was perfect for some October Afternoon Christmas papers that I've had hoarded away for quite some time.
This 5.5″ x 7.5″ chunky album has chipboard covers, an "O" ring binding and is chock full of Christmas cheer.
Tabbed pages divide the album up into 4 sections.  It's filled to the brim with Christmas cheer and has loads of room for photos, recipes and journaling.
The colors in the Crazy for Christmas Ribbon Collection are a perfect match for these papers, and I've used them to accent layout pages throughout.  Just add photos or journaling and you've got a great December Daily Album!
I kept the inside pretty simple, so that the photos can take center stage.
I love using ribbon as borders on pages.
A little stitching, a little square knot bow…adds such a festive feel to the album.
The stockings were hung by the chimney with care!
I think I used every single smidge of ribbon and trim from this gorgeous Crazy for Christmas assortment.
This is great spot for recipes, cookie photos or baking day photos. The ribbon adds a lovely shine!
Room for more recipes and photos.
I keep a list of the cookies I make each year, and this would be a great spot to do it.
A little rusty metal star is glammed up with some Dazzling Diamonds Stickles on the final recipe page.  Then we go into a section devoted to Christmas Morning.
Room for loads of photos!  This snowy white Mary Crocheted Lace adds such great texture!
I've used it again here, along with sparkly icicles to give the page a real wintry feel.  The opposite page has a pocket with tags that are topped with silky soft Emerald Checkerboard Satin Ribbon.
This page would be great for photos of kids on Santa's lap!
And these pages have room for family photos.
I tucked a tiny piece of Mary Crocheted lace behind my tag and I also used it as a border. It just pops off the page.
Here's a look at all the scrumptious ribbons tied onto the binding rings.  So festive!
From here, you will hop over to see how Cherry used these same ribbons to make a fabulous project or two. When you've visited all the blogs in this hop, make sure you return to the RRR BLOG and answer Bonnie's question of the month so you can be entered to win your very own Crazy for Christmas Ribbon Club Assortment.
If you haven't signed up for the Monthly Ribbon Club, now is a great time to do it, because Bonnie has a special deal where you can get TWO Ribbon Club Assortments at a great price! Who doesn't enjoy getting a package of fabulous ribbons in the mail each month. If you're looking for a great Christmas gift for the crafter who has everything, this would be a fabulous choice!
And, if you'd like to purchase this Crazy for Christmas Mini Album, you can find it in my ETSY shop.
Thanks for stopping by!
Cheerio,
kathy