Love is in the Air: Really Reasonable Ribbon Blog Hop
Hello, Friends!  Welcome to another Really Reasonable Ribbon Blog Hop!  You should be coming here from Dana Joy's Blog.  This month, we're getting you primed for Valentine's Day with our "Love is in the Air" ribbon club assortment of fabulous ribbons.  Take a peeky: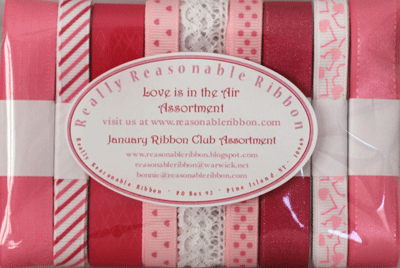 Aren't they scrumptious?  So many wonderful patterns and textures…I couldn't wait to play with them.
Have you heard of "spoolies"?  I've seen these in different places on Pinterest and the web, and I think they are so cute!  Basically, you stack up a bunch of spools, bottle caps and such and decorate them to make a cute piece of home decor.  That's what I did with these sweet ribbons.
This was such a quick and easy little bauble to make.  I painted an empty thread spool, a Prima bottle cap and a re-purposed wine cork with "Innocence" DecoArt Chalk Paint . I wrapped the spool with Swiss Dots Grosgrain Ribbon in pearl pink with hot pink dots. I added another row of the Hot Pink and Shocking PInk Diagonal Grosgrain Ribbon at the bottom edge of the spool.  Then I used my Zutter Bow-it-All to create a flirty hot pink bow with Delicate Stitched Satin Ribbon.
I glued the painted wine cork inside the Prima Bottle Cap and  filled the bottle cap with Delicate Pink Sweetheart Blossoms.  They are so sweet! I topped the wine cork with a handmade flower (Posy Patch from Heartfelt Creations) and a bit of Brenda White Crocheted Lace. I gathered more of this lace, then attached it to the back of my Valentine image.  (Authentique "Cursh") I used one of Tim's memo pins to secure it to the cork.
It's a super quick, super cute little number…and I've put it on my mantle shelf along with my Valentine Banner…so love is in the air at my house!  Oooh-la-la!
Now comes the fun part…you get to enjoy all the beautiful "Love is in the Air" eye candy that the rest of the team has prepared for you. From here, you will hop over to visit Cherry's Blog.  But here's a list for you, just in case you get lost along the way:
RRR Blog – www.reasonableribbon.blogspot.com
Ginny – http://pollyspaper.wordpress.com/
Amber Milone – http://www.pinkchicpaperdesign.blogspot.com/
Bonnie – http://www.maketime2craft.com/
Karen Letchworth – http://www.karen-mycuprunnethover.blogspot.com/
Heather Hudson – http://heatherahudson.blogspot.com/
Teresa – http://victorianpaperqueen.blogspot.com/
Jenn –http://www.jaxbeanstalks.blogspot.com/
Dana Joy – http://www.gotjoycreations.blogspot.com/
Kathy – http://www.kathybydesign.com/   You are here
Cherry – http://cherrysjubileehome.blogspot.com/
RRR Blog – http://www.reasonableribbon.blogspot.com/
Make sure to stop by the RRR BLOG and answer Bonnie's question of the month so that you can win your own pretty in pink "Love is in the Air" ribbon club assortment.  And if you have not subscribed to the Ribbon Club, you can get all the details HERE.  Signing up is quick and easy…and then you will receive the ribbon club assortment every single month!  It will be like Christmas all year long!
Thanks for stopping by,
Cheerio,
kathy