Mini Apple Recipe Album and Fall Ribbons for Really Reasonable Ribbon Challenge
Welcome to September, Ribbon Lovers!  It's the first of the month, so it's time for another wonderful challenge from Really Reasonable Ribbon.  The challenge this time is "Autumn Colors and Ribbon."  This one is right up my alley…I loooove fall!  The colors, the crisp air, the bright blue sky.  I was totally inspired to get my craft on, and made a mini Apple Recipe Album with beautiful fall ribbons from Really Reasonable Ribbon.  Check it out:
This  mini recipe album has 2 of my all time favorite apple recipes tucked away on the inside.  Growing up in New England, my family went apple picking every September.  I can still smell the perfume of those glorious apple orchards, see the branches hanging low with bountiful fruit, and remember how the juice would run down my chin when I took a big bite from that freshly picked apple.  We would load up the back of our VW mini bus with bushels of apples and eat apples all the way home.  Mom would store some in the cold cellar, keep some out for us to munch on, and then can the rest to be used in her wonderful apple pies, crisps, and Betty's.  She would make quart after quart of homemade applesauce for us to enjoy during the winter months.  So it's no wonder that I still love apples!
I used burgundy cardstock as the base of my album, then layered on beautiful papers and ephemera from the Authentique Autumn Season paper collection.  The gorgeous ribbons I've used here are from the Really Reasonable Ribbon August Ribbon Club Collection.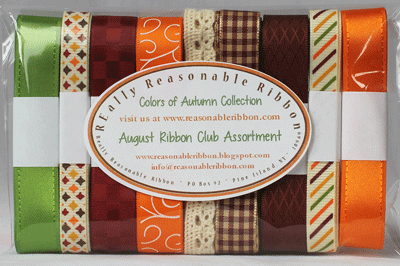 I used Sherry Checkerboard Satin, Tabitha Natural Crochet Lace, Rust/Ivory Plaid Ribbon, and of course I had to use just a little of my favorite Natural Jute String.
The album has a cut away front that I lined with stamped kraft paper and turned into a pocket for holding tags.
Each tag is topped with ribbon and twine and then tucked into the front pocket.  There's room to mount a small photo on the back, and you could journal on the front, too.
I've done lots of stitching, and added bits of ribbon, fall ephemera and hand written recipes throughout the mini recipe book.  I left the top edge of the album open so that I could tuck in more tags, photos and journaling spots between the pages.
I added fussy cut apple images and cute apple brads to my pages to bring them to life.
These are the tags that are inserted between the 3rd and 4th pages. I made this tag into a pocket by stitching the coupon onto the kraft cardstock.  Then I filled the pocket with Technique Tuesday journaling tags I found while tidying up my studio.  It's amazing what you find when you clean, isn't it?
Lots of room to journal or add photos.
Here's a look at the back of the mini album.  It's a simple design, and I need to write up a tutorial to share with all of you. Would you like that?   I love my little bottle cap with the apple button on top.  I am sharing a tutorial on how to make these on the Really Reasonable Ribbon BLOG (and here, too) on September 4th, so you'll want to check that out.
I'm also linking this project up at a fun new challenge blog I found just a week ago.  613 Avenue Create has a weekly challenge that looks like too much fun to pass up.  This week's theme is "Anything Goes with Sights, Sounds and Tastes of Autumn" as an optional twist.  How could I pass that up?
So, do you have any favorite fall memories?  Our apple picking tradition is one of my most favorite, and most delicious, too!  I'd love to hear about yours in the comment section below.  If you don't have any favorite fall traditions, I'd love to hear what your favorite apple recipe is!
Thanks for stopping by!
Cheerio,
kathy