Really Reasonable Ribbon Blog Hop: Autumn Days Ribbon Club Collection
Hello, Friends!  Welcome to another fabulous Really Reasonable Ribbon Blog Hop!  You should be making your way here from Jenn's fabulous blog.  If not, hop on over to Really Reasonable Ribbon to get back on track.  You don't want to miss a single stop on this inspiring Blog Hop! We are gearing up for fall this month as we feature the rich vintage ribbons in the Autumn Days Ribbon Club Collection.  Oh, how I love these colors!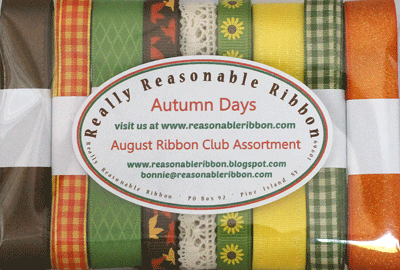 I pulled out a brand spankin' new paper collection from Carta Bella.  The Fall Blessings papers coordinate perfectly with these beautiful ribbons, and I used them to make one of my famous "more than just a card" projects.
I layered up the gorgeous papers with every single one of the ribbons in the August Ribbon Club Collection.  They all worked so perfectly I just couldn't stop myself!
The double layer bow was tied with Turftan Brown Satin with Grosgrain edge Ribbon.  I love the soft sheen and rich color this adds to the card.
I topped this with a double loop bow that I tied with the beautiful fall leaves ribbon that comes in the assortment.  A lot of you have asked me how to tie a double ribbon like this so that the printed side is always facing up.  Bonnie has a great video on YouTube showing you how to use the Zutter-Bow-It-All tool with printed ribbon.  I thought I'd share it here so that it's easy for you to find.
And that, my friends is how it is done!
To echo the fall banner that I placed beneath my card focal, I  added a little ribbon banner to the side.
An easy way to create borders on a card is to use ribbon.  Here, I've layered the yellow and orange plaid ribbon over the shimmering tangerine with gold satin ribbon .  I used the beautiful Debra Crochet Lace as a border piece at the top of the card.  I love the vintage goodness and texture this adds to the card.
Inside the card, I've prepared a pocket that I stuffed with pretty tags and more ribbon.  I made loopy bows from burlap string, too.
Here's a peeky at the cutie pie tags.  I am in love with the owl!  This would make a great fall hostess gift, birthday card or just because card.  Tuck tea bags, individually wrapped chocolates or gift cards inside, and you've created a gift and a card all in one!
Now hop on over to Really Reasonable Ribbon and answer Bonnie's question of the month so that you can be entered to win your very own Autumn Days Ribbon Collection.  And, if you've fallen in love with this gorgeous ribbon collection, you can get your own by signing up for the RRR Monthly Ribbon Club Collection HERE.  It's like getting a Christmas or birthday present in the mail every single month.
And, if you'd like to purchase this card, it is available in my ETSY shop.
Thanks for hopping by!
Cheerio,
kathy