Coffee Break Birthday Mini for the RRR March Blog Hop
Hello Friends!  Welcome to the RRR March Blog Hop!  You should be coming here from the always fun and fashionable Dana's blog.  If so you are right on track.
This month we are showcasing the Spring Rainbow Ribbons from the March Ribbon Club assortment.  Here's a peeky: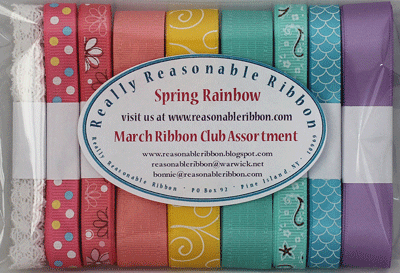 Aren't they yummy?  They remind me of Easter Eggs and they are also a perfect match for the Coffee Break paper collection from Prima.   My sweet sis in law just had a birthday, and she loves Starbucks, so I made this cute little birthday mini book and put it in the mail to her.
I just love the bright, cheery colors and fun graphics and the wonderful way they work with these pretty ribbons.  The album base is made from one sheet of 12″ x 12″ cardstock and opens out to a trifold wallet with lots of fun pockets and places to tuck tags and gift cards.  The album is held shut with a perky bow closure made with Daffodil Satin Swirls Ribbon.  The cutie pie bow on the side is made with Coral Rose Funky Flowers Grosgrain Ribbon.  I tossed in a few sequin flowers to add a little sparkle and shine.
Once the bow is untied, this is what the mini album looks like.  Lots of fun papers, stitching, some stamping and more beautiful ribbons.  I picked up on the aqua tones in the paper by adding a simple square knot bow made with this pretty Paisely Print Grosgrain Ribbon. Cut on the diagonal and combined with more Funky Flowers ribbon, it makes  a cute banner on the facing page.
Here's the cute tag that is tucked into the pocket.
I just love my sister-in-law, and wanted to create something that would feel like a party in a card.  All these fun pullouts and tags make the mini interactive, and that is always a fun thing.  The tags can be hung on the fridge or used as bookmarks, pinned on a bulletin board….any number of uses.  I tucked a Starbucks gift card into one pocket, and an individually wrapped Ghiradelli chocolate into another.  So it's kind of like a treasure hunt, too!
Here's a peeky at the back side of the mini.  It's fun, isn't it? There's another pocket/tag combo here, just for extra fun!
If you'd like me to share a step out tutorial for making this design, let me know, and I'll work one up for one of my regular RRR posts.  It's a fun design, fairly easy to make and can be adapted for any occasion.
Now, hop on over to be inspired by the shabby chic goodness you'll find at Cherry's blog.
Don't forget to visit the Really Reasonable Ribbon Blog and answer Bonnie's question of the month so you can be entered to win your own fabby Spring Rainbow Ribbon Assortment.  And, if you haven't joined the RRR Ribbon Club, Bonnie has a special deal going on in February and March.  You will receive both the February and March ribbons at a special reduced rate. Here's the link, and once you sign up you can start receiving loads of gorgeous ribbons delivered right to your door each month.
Thanks for hopping by!
Cheerio,
kathy