Summer Fun Blog Hop with Really Reasonable Ribbon
Hello, Ribbon Lovers!  Are you ready for some fun?  Then you are in the right place, because it's time for the Really Reasonable Ribbon Summer Fun Blog Hop!  You should have made your way here from Jenn's amazing blog, Jax Bean Stalks. If so you are right on track.  If you are lost, head back to the RRR BLOG where you will find all the links for this hop.
This month, we are celebrating summer with the bright tropical colors of the RRR Summer Fun Ribbon Assortment.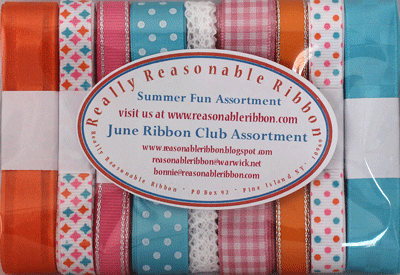 Oooh, these colors make me think of popsicles and swimsuits, bright summer days and beautiful flower gardens!  I got really playful, and designed a paper bag gift pocket with tags and loads of room for goodies to be stuffed inside.
How fun is this?  And to think it all started with a lowly brown paper lunch bag.  Who knew?  I have been on a tangent for using up some of my older paper collections.  Quite some time back, I purchased the entire Restoration Paper Collection from Crate Paper.  I was tickled to find it the perfect match for these vibrant ribbons.
Here are the tags I made to stuff inside.  I had the vintage photo in my little ephemera box, and the tags are some I had made while experimenting with Distress Inks.  All I had to do was add the images and fabby ribbon on top.  Doesn't it feel like a party?  And don't you wish you knew how to make one of these fun paper bag gift pockets?  Too bad nobody wrote a step out tutorial for this project!  Wait!  It's your lucky day, because I DID!  Hahahahaha!
Here's what you I used to make this paper bag gift pocket:
a brown paper lunch bag
June Summer Fun Ribbon Assortment from RRR
Crate Paper Restoration Paper Collection
Manila Tags
Distress Inks
Paper Flowers (Prima Coffee Shop and sweetheart blossoms in mixed colors)
Hot Glue Gun
paper clips, stickers and other assorted ephemera
collage sheet
sewing machine (it's optional, but I used one)
Step One: Creating the Pocket
Place your brown paper bag face up on your work surface.
Measure down 5″ from the top of the bag, and fold down toward the bottom edge. Crease with a bone folder.
Flip the bag over.  Measure down 3″ from the top, fold down and crease.
Flip the bag over.  You can secure the bottom edge with Scor-Tape or stitch it.
Just be sure not to tape or stitch the top portion of the bag, or you will lose your pocket!
Step 2: Lining the Pocket
Choose two complimentary patterns of designer paper.  Cut the paper as follows:
two 5 5/8″ x 4 7/8″ rectangles (I used the orange paper for one of these and the floral paper for the other.)
ONE 5 3/4″ x 5″ rectangle of faux wood paper
one 5 5/8″ x 2 7/8″ rectangle (I used the floral paper)
Stitch around the edges of the papers, if desired.  Line the top portion of the pocket with the orange paper.  Use the floral paper to line the base.  Run Scor-Tape along the top and bottom edges, as seen here. Flip the bag over, and seal the cut ends of the ribbon onto the back of the pocket.
Flip the bag over, and glue down the faux wood paper, topped with the floral paper.
Now your bag is all ready for you to decorate as you see fit.  You can make it as fancy or as simple as you choose.  I chose fancy!
Now that you know how to make this super fun paper bag gift pocket, you can hop on over to see what wonderful goodies Cherry has prepared for you!  Don't forget to finish up at the RRR BLOG where you can answer Bonnie's question of the month and be entered to win your very own June Summer Fun Ribbon Club Assortment!  And, Bonnie has a great deal for new ribbon club subscribers!  Be sure to check it out!
Thanks for stopping by!
Cheerio,
kathy