Tag!  You're It!
Christmas Tags in Bags for Really Reasonable Ribbon
Hello, Ribbon Lovers!
It's time for another fabulous challenge at Really Reasonable Ribbon.  Our theme this time is "Tag, You're It!"  Create a tag with ribbon or trim and share it with us over on the  Really Reasonable Ribbon BLOG .    I used the   the fresh, fun ribbons in the October "Crazy for Christmas" Ribbon Club Assortment to make some super cute retro styled Christmas Tags in Bags.  Check out these ribbons!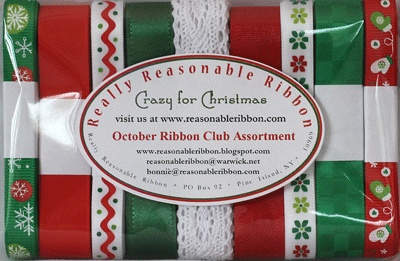 These ribbons put the jolly in Holly Jolly!  Since they have such a great retro vibe, I pulled out some cute October Afternoon papers and went to work.
I layered these super fun retro papers and ribbons onto Chevron Striped Middy Bitty Paper Bags.  They are the perfect vehicle for presenting a gift card or cash during the holidays.   You can even tuck in an individually wrapped chocolate, pouch of hot cocoa, tickets, a Christmas cookie or any smallish gift. And you can use the sparkly clothespins to hang them on the tree!
This snowy white Mary Crochet lace is perfect for winter projects.  It adds great texture when used as a border piece on this envelope.  And I have a new ribbon crush!  This Poppy Red Taffeta Ribbon ties the prettiest bows and pairs perfectly with the cutie pie Mittens on Poppy Red Grosgrain Ribbon, too.  In fact, that's one of the things I love the most about the Ribbon Club at Really Reasonable Ribbon.  All the ribbons complement one another.  It makes it so easy to pull together a great project! My double loop bow was topped with a snowy white WOC Magnolia Blossom.
I carried the ribbon theme inside the card with a pair of punched and paper pieced mittens held together by red burlap string, and more pretty mitten ribbon. This time I layered it up with Forest Green Satin Ribbon with a Grosgrain edge.
Here's another version of this same design.  This time I topped the crochet lace with Christmas Fun Flowers Satin Ribbon.  For some reason, this ribbon reminds me of the old fashioned Christmas hard candy my grandmother had around during the holidays. I wrapped the top of my bag with Emerald Checkerboard Satin Ribbon tied in a simple square knot.  Then this was topped with a loopy  string bow made with Parrot Green and Red Burlap String.
I paired these two ribbons up again on the tag inside the bag, adding a Red Cottage Rose to pretty it up even more.
I love the combination of the Forest Green Satin with the playful Christmas zig-zag ribbon.  And I used the burlap string bow again here…it just seemed right for the image.  I backed my sentiment banner with a little bit of the same Forest Green ribbon to make it pop off the page.
And i used the same Dynamic Duo on the gift tag inside the envelope.  I hope you'll make some of these cute Christmas Gift Card Tags in Bags for your own stocking stuffers.  They are addicitive…once you get started, you just want to keep on making them!
Now dig into your crafty stash and make some fabby tags with ribbon or trim!  Tag!  You're it!
Thanks for stopping by!
Cheerio,
kathy