Tags, Tags. Tags for Really Reasonable Ribbon Challenge # 108
Hello, Friends!  There's a great new challenge over at the Really Reasonable Ribbon BLOG.  Due to the holidays, we're only doing one challenge this month so you'll want to be sure to play along in this Tags, Tags, Tags Challenge.  You can find all the details on the RRR blog.
For my Tags, Tags, Tags challenge, I altered a Graphic 45 Book box using the gorgeous December ribbon club collection.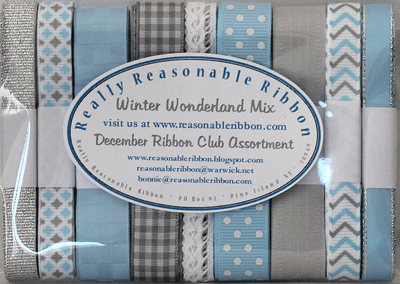 This Winter Wonderland Mix is filled with beautiful sparkly ribbon!  Here's the Tags, Tags, Tags altered book box I made using them.
I think I managed to use every ribbon in the assortment along with darling papers from the Authentique "Cozy" collection.  I used Scor-Tape to secure a double layer of Gray Plaid Ribbon with pretty Light Blue and Silver Chevron Ribbon to form the closure for my book.
I stitched around all the edges of the paper before attaching them to the box.
Here's the inside.  The tags are bound together with ribbon and tucked inside the box opening.
When I was a girl growing up in Vermont, the town created an ice rink in a vacant field every winter.  Families could go there to skate and grab a cup of hot chocolate from the little concession stand.  I was never any good at skating, but I was really good at drinking cocoa!  I was thinking about that ice rink when I added the Priscilla White Crochet Lace to the top and bottom of the box.  I stitched in little snowflake sequins on the top, just for fun.
And here's the tag book, adorned with lots of yummy ribbon!
My little banner is strung with Natural Jute String and I just love the texture it adds.
The spine of the box features this gorgeous Blue Satin Ribbon with a silver metallic edge.  I strung it with a few blue and grey glass beads and added a snowflake charm.
Thanks so much for stopping by today!  I hope you were inspired by this little altered book box and that you will join us over at the Really Reasonable Ribbon blog for our Tags, Tags, Tags challenge!
I'm linking this project up at Word Art Wednesday for their "Anything Goes" challenge.
I'm linking this project up at Simon Says Stamp Wednesday Challenge (winter and holidays)
I'm also linking this up to The Sunday Showcase at "Under the Table and Dreaming."
Cheerio,
kathy