Hello, Ribbon Lovers!
I'm here with a Thanksgiving Mini Album tutorial to share with you. But before we get started, I want to let you know that Bonnie is having a big SALE in the Really Reasonable Ribbon Store starting today through midnight on Friday!  Now all that gorgeous ribbon is even more reasonable!  I know you'll want to stock up on pretty ribbon for all  your holiday projects, so here are the codes for the sale:
Thanksgiving is my favorite holiday, and I wanted to squeeze in just one more Thanksgiving project before the day passed. As my gift to you, I've created a photo step out so you can make this album yourself if you're so inclined. All my ribbons for this project are from the gorgeous Rustic Ribbon Assortment. I have found that these lovely ribbons are perfect for Autumn themed projects, Thanksgiving projects and Christmas projects, too.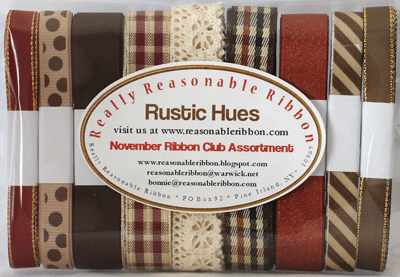 You'll see these throughout the mini album, and I'll try to add individual links, too. This is a long post, with lots of photos, so go grab a hot cuppa and a snack and then we'll get started.
The back side of the accordion opens so that you can add photos to the album.
Now, here are the steps for making your own album.
 Choose your paper and ribbons and any embellishments you want to use. You'll need 2 sheets of 8 1/2″ x 11″ cardstock and some manila tags.
Peel away the backing tape and join the two sheets together, lining them up along the 1/4″ tape line.
Score the long side (22″) of your cardstock every 3 1/2″ and trim away the excess at the end.
 Turn your paper 90 degrees to the 8 1'2″ edge and score at 6″.
Fold this flap up. This will form your pockets. Then accordion fold the long side from left to right starting with a valley fold, then a mountain fold, then valley, etc. until each 3 1/2″ panel is folded.
Fold the pocket flap down and run glue along each end and on either side of all the creases, as seen above. Then fold the pockets back up, and burnish with a bone folder to seal.
This is what your paper should look like at this point. Use a circle punch to add thumb holes to each pocket panel.
Cut one 3 1/4 x 6 1/8″ panel of designer paper for the first page. Glue it down.
Cut six 3 1/4″ x 4 1/4″ panels of designer paper to line the top of the pockets. Center these panels on the top portion of each page and glue down.
Cut six 3 1/4″ x 2 1/4″ panels of designer paper to cover the pocket fronts of each page. Cut the thumb hole to match and glue down.
Cut two pieces of chipboard (I used an old cereal box) to 3 5/8″ x 6 1/4″. These will be your covers.
Cut another piece of chipboard to 1/2″ x 6 1/4″. This will be your spine.
Cut a 9″ x 7″ piece of designer paper to be your decorative cover.
Cut an 8″ x 6 1/8″ piece of designer paper to be your inside cover liner.
 Lay your 9″ x 7″ piece of designer paper face down and center your chipboard covers and spine. Glue them down using strong white glue, Scor-tape or double stick adhesive.
Fold the paper over the edges of the chipboard covers, creasing with a bone folder. Open up and trim the 4 corners, as seen in the photo.
Glue the edges in place, as shown above.
Burnish with your bone folder, and crease the edges that run along the spine. When you close your book cover, it should look like this:
 I inked the edges of my book with Vintage Photo Distress Ink. Now you can run 1/2″ scor-tape in the center of your book from the front right edge, around the spine, and onto the back cover all the way to the center edge. Cut an 18″ piece of ribbon and secure it to this strip of Scor-Tape. This becomes your cover closure. Now, you can decorate the cover.
To secure your inner pages to the book, glue the back side of the last folded page to the right hand side of the inside book cover. You'll be able to open the book, accordion style.
See how the last page on the left is glued to the inside of the cover? Then you just collapse your pages, decorate them and your book is finished. Phew!
I know this was a long post, but several of you have asked me to do a tutorial on this sort of accordion fold mini album. I hope you found this helpful, and will be inspired to make one of your own design. If I can help you in any way, just give me a shout and I'll be happy to answer any questions you might have. It's a fun little project, and one that will look great opened up on my buffet table this year. I wish you all very happy, healthy and thankful holiday with your friends and families!
Thanks for stopping by!