Trick or Treat Cards with Haunted Halloween Ribbons
Hello Ribbon Lovers!
Well, September is here, and before you can say "BOO!" we'll be carving pumpkins, raking leaves and handing out candy to good little ghouls and goblins.  Yes, Halloween is right around the corner, my friends!  I've designed a boxed set of super cute Trick or Treat Cards using the fabulous Haunted Halloween Ribbon Club Assortment from Really Reasonable Ribbon.  Take a peeky:
I started out with a 4.5″ square box and just had a blast altering in and filling it up with adorable Trick or Treat cards.  On the top of the lid, I created a black border by adding Gladys Black Crochet Lace above and below my diagonal stripe. I just love the way this resembles a spooky spider web, don't you?
Orange metallic foil was shaped into a rosette and then topped with a brad.  I used a circle punch and a scallop circle punch to create the number 31.  The jack-o-lantern stickers are from the Trick or Treat paper collection; I just added a few yellow stickles to make them glow.
The Haunted Halloween Ribbon Club Assortment is loaded with frightfully fabulous new ribbons.  One of my favorites is the silky, luxurious, Black Houndstooth Plaid that I used to tie my triple loop bow.  This ribbon is so easy to handle and I know it's going to be a favorite ribbon for me all year long.  I topped the bow with some orange burlap string that was tied into big soft loops with the help of my Zutter-Bow-it-All.  Then I added a sparkly bat button and a not too spooky Halloween charm to finish off the top of the lid.
I love adding black borders to anchor a project, and for this little box, I added a strip of not so ghoulish Spider Webs on Black Grosgrain Ribbon.  I layered this same ribbon over some bright orange Sheer Organza with Satin Edges.  I love how those spider webs POP!  To decorate the front of my lid, I used my scallop punch to punch out 3 circles from plain black cardstock.  Then I glued them together and ran them through an embossing folder and inserted a Halloween brad in the center.  Quick, easy and fun!
The party really gets started when you open the box.  There are six 4″ square Trick or Treat cards tucked inside, each with a bit of ribbon, a button, some sequins, and a tiny ticket.  Wouldn't these make fun Halloween party invites?
Each card is just a little bit different, and loads of fun! And the Haunted Halloween Mix of ribbons are the perfect finishing touch.
Here, I've opened up one of the cards so you can see the finished interior.  Each card is finished exactly like this one.  room for a note, or room to mount a photo on the left and do some journaling on the right hand side.  You could clip these cards to a bit of ribbon or twine and use them like a banner.  Or, you could set up a photo booth at your party and send your guests home with a sweet souvenir.  Really, these Trick or treat cards are so much fun, you do just about anything with them!
If you have always wanted to join the Really Reasonable Ribbon Club, now is a great time, because RRR is having a special offer for their domestic subscribers.  Sign up in September and you get the Spook-tacular Haunted Halloween Ribbon Club Assortment PLUS the Glorious Autumn Days Ribbon Club Assortment for just $17.00.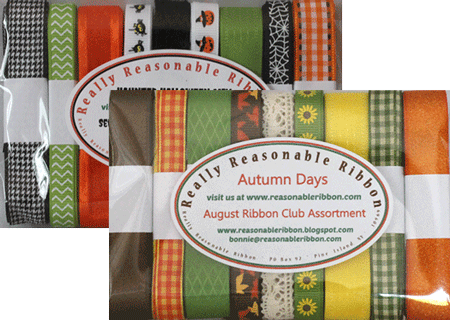 That's a whole lotta ribbon for one great price!  You can sign up and find all the details HERE.
And, if you'd like to purchase this box full of Trick or Treat Cards, you can find it in my ETSY shop.
Thanks for stopping by!
Cheerio,
kathy